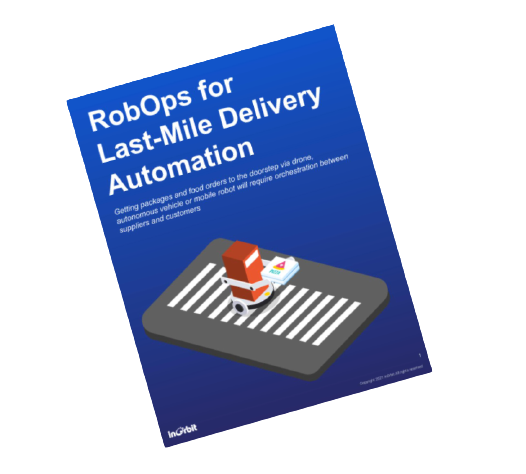 Free download
Whitepaper:
RobOps for Last-Mile Delivery Automation
The last mile of a delivery is said to be the most challenging. Explore how automation will be critical to the future of this evolving field.
Download the whitepaper
The final step in the supply chain of delivering goods from a business to the customer's doorstep is critical, but can often be the most challenging and costly. Time, energy, and cost are often the biggest stumbling blocks in providing efficient deliveries. The recent pandemic has not only disrupted labor and supply chains, but dramatically accelerated the interest and integration of automation into last-mile delivery solutions.

Different types of robots are now being deployed for last-mile deliveries, including autonomous and semi-autonomous mobile robots that use sidewalks for delivery, autonomous vehicles that share the road with other passengers and In the air, several drone companies are experimenting with flights to deliver food, medicine, and parcels to the front door.

Regardless of the robot type, companies will need to utilize RobOps best practices that can ensure successful deliveries.

Read the whitepaper to learn:
The true scope of last-mile delivery
Unique challenges facing last-mile delivery robots
The evolving role of humans in last-mile delivery
Managing orchestration for last-mile automation
Integrating RobOps into last-mile logistics
InOrbit is here to help your company optimize the potential of every delivery robot and orchestrate the execution of specific tasks. Find out more by downloading the whitepaper >>
*An email containing a link to the whitepaper will be sent to the email address provided.