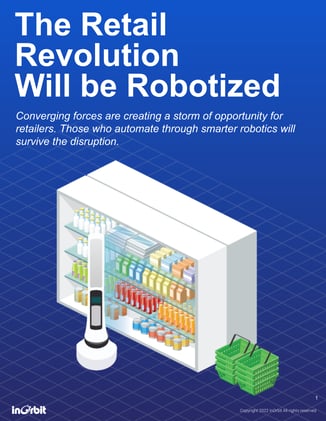 Free download
Whitepaper:
The Retail Revolution will be Robotized
Retailers face challenges and opportunities like never before. Explore how smart automation will help them survive the disruption.
Download the whitepaper
New challenges face retailers today, unlike any seen before. Labor shortages, an unstable supply chain, and shifting consumer demands are only some of the issues facing the retail sector. How companies manage these disruptions will determine their fate. One approach that solves many of these issues is the integration of automation. Across the retail landscape, some are realizing the promise smart automation can provide.
Different types of robots are now being deployed in retail environments. Warehouse and logistics robots, and being joined by inventory scanning robots, drones, and even customer service robots. Automation already plays a role in curbside and last-mile delivery, but when used in conjunction with micro-fulfillment centers supported by sophisticated autonomous storage and retrieval systems the opportunity integrated and well-orchestrated robotics provide is incredible.
Regardless of the robot type, companies will need to utilize RobOps best practices that can ensure successful mission execution.
Read the whitepaper to learn:
The scope and opportunity robots suggest for retail
Unique challenges facing retail automation
The types of robots being deployed in retail today
How smart orchestration informs retail automation
Integrating RobOps into retail robots
InOrbit is here to help your company optimize the potential of every retail robot and orchestrate the execution of specific tasks. Find out more by downloading the whitepaper >>
*An email containing a link to the whitepaper will be sent to the email address provided.