Transform robot operations at any stage
Unlock the full potential of the robotic workforce
InOrbit is here to help robotics users at any stage of their automation journey navigate the often complex robotics landscape and maximize the potential of their robots through expert guidance, advanced software and strategic partnerships. With InOrbit Intelligence, innovation and operations teams can benefit from InOrbit's world-class expertise through workshops, proof of concept deployments and customized strategy development.
InOrbit Intelligence enables companies to embrace robotics with the confidence to drive operational excellence.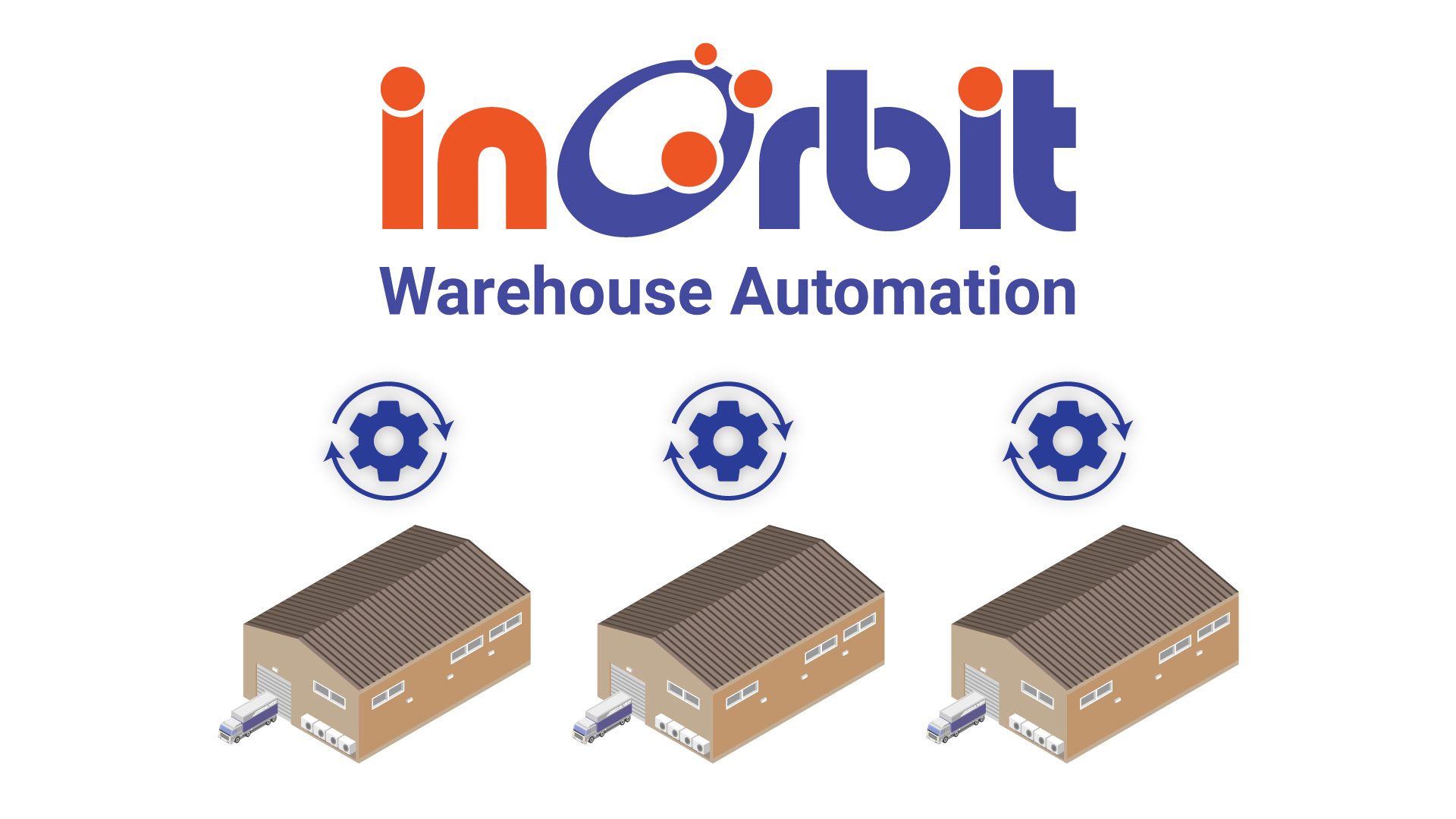 Operational efficiency is a top priority for companies looking to remain competitive in today's evolving market. That's why InOrbit offers a comprehensive robot operations solution designed to help overcome the challenges of deploying robots in supply chain and logistics operations.
The InOrbit Warehouse Automation (IOWA) solution can help address challenges such as labor shortages, labor reliability, flexibility to respond to market conditions and customer expectations, and the need to improve worker safety with increased resilience in the face of disruptions. By leveraging the IOWA solution, companies can optimize operations, improve productivity, and drive growth.
Streamline robot workflows with a common platform
Deploying robotics solutions is complex. Robots don't work in isolation: they need to work in harmony with existing enterprise software, automation systems, other robots, and humans. This level of orchestration is challenging and expensive. That's why InOrbit has built the leading robot operations (RobOps) platform to orchestrate the work of robots. Whether the deployment includes a small number of robots performing a single task in a pilot or a scaled deployment spanning multiple tasks, vendors, and locations, InOrbit Warehouse Automation (IOWA) can help
Integrate IOWA with existing systems (WMS, WES, ERP), and fixed infrastructure (cameras, doors, and other IIoT devices).

Design and deploy missions ranging from simple tasks to complex multi-robot behaviors for a single facility or across multi-location fleets.

Monitor robots through a single pane of glass which provides comprehensive observability of robot fleets for more efficient operations.

Future proof purchasing decisions by ensuring interoperability and adaptability for changing needs.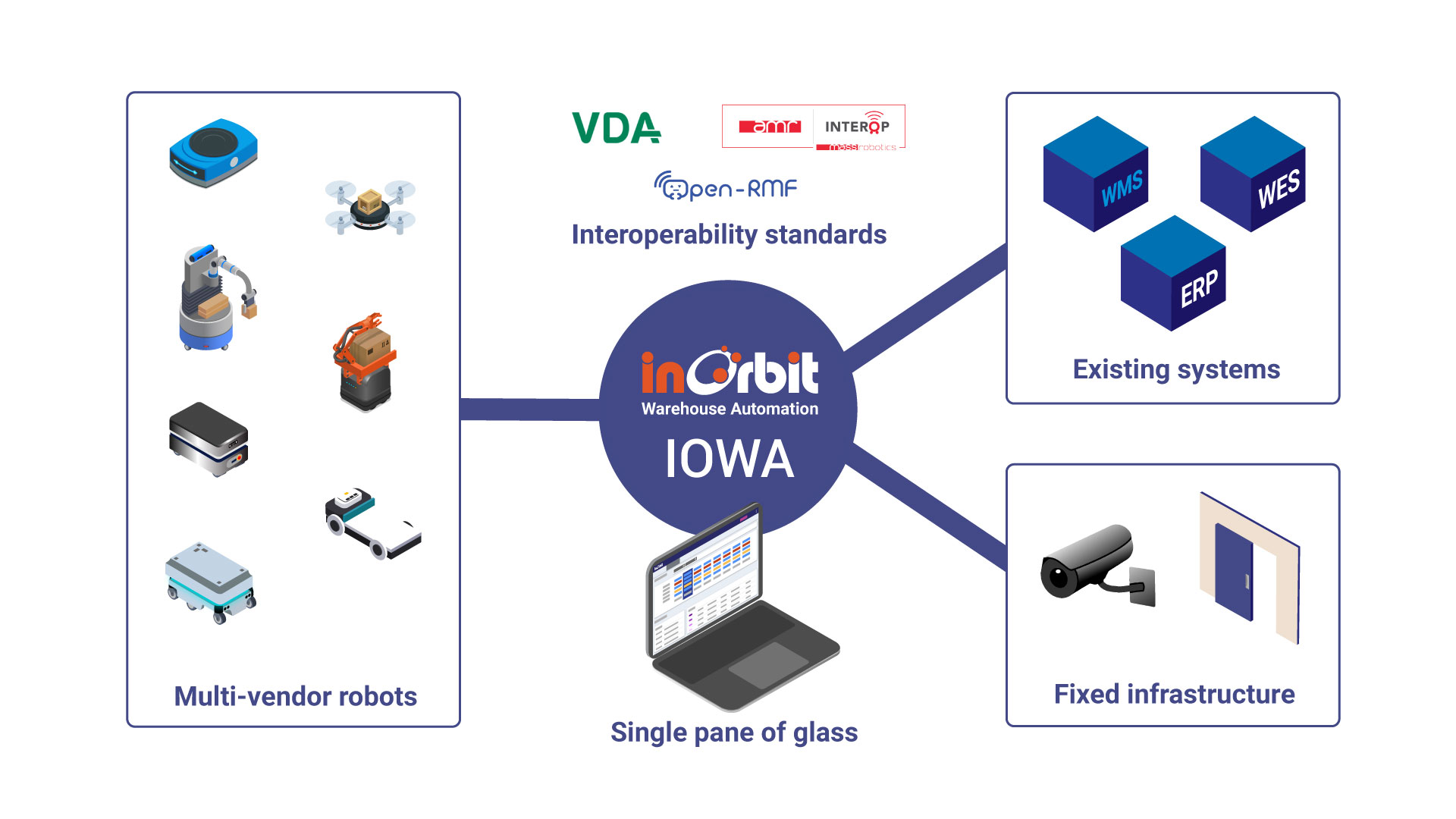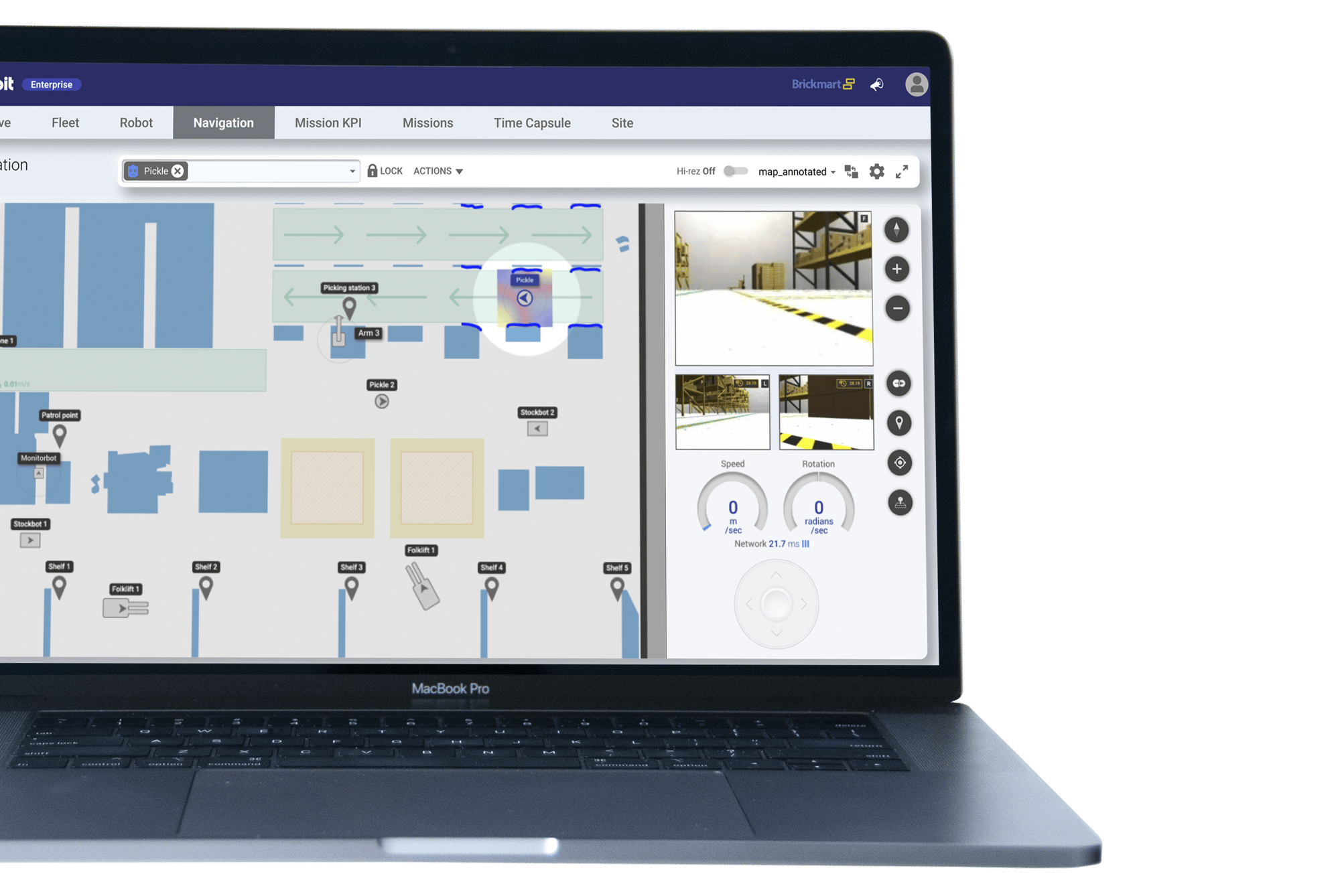 Create robot behavior with advanced orchestration
With InOrbit, it's easy to define, execute, and monitor robot behaviors for a single robot or a heterogenous fleet of robots spread across multiple locations. InOrbit provides detailed analytics and KPIs to meet specific business needs regardless of which robot vendor is chosen. InOrbit allows operators to seamlessly control any robot fleet, from scheduling repeatable tasks to dynamically dispatching robots on their mission, while precisely tracking progress and performance across sites in real-time. InOrbit's comprehensive reporting and analytics allow companies to optimize their robotic workforce and achieve greater operational efficiency.
A truly scalable RobOps platform, InOrbit enables heterogeneous robots to operate autonomously, reliably, and collaboratively with existing infrastructure and automation systems, ensuring optimal performance and unlocking new levels of productivity.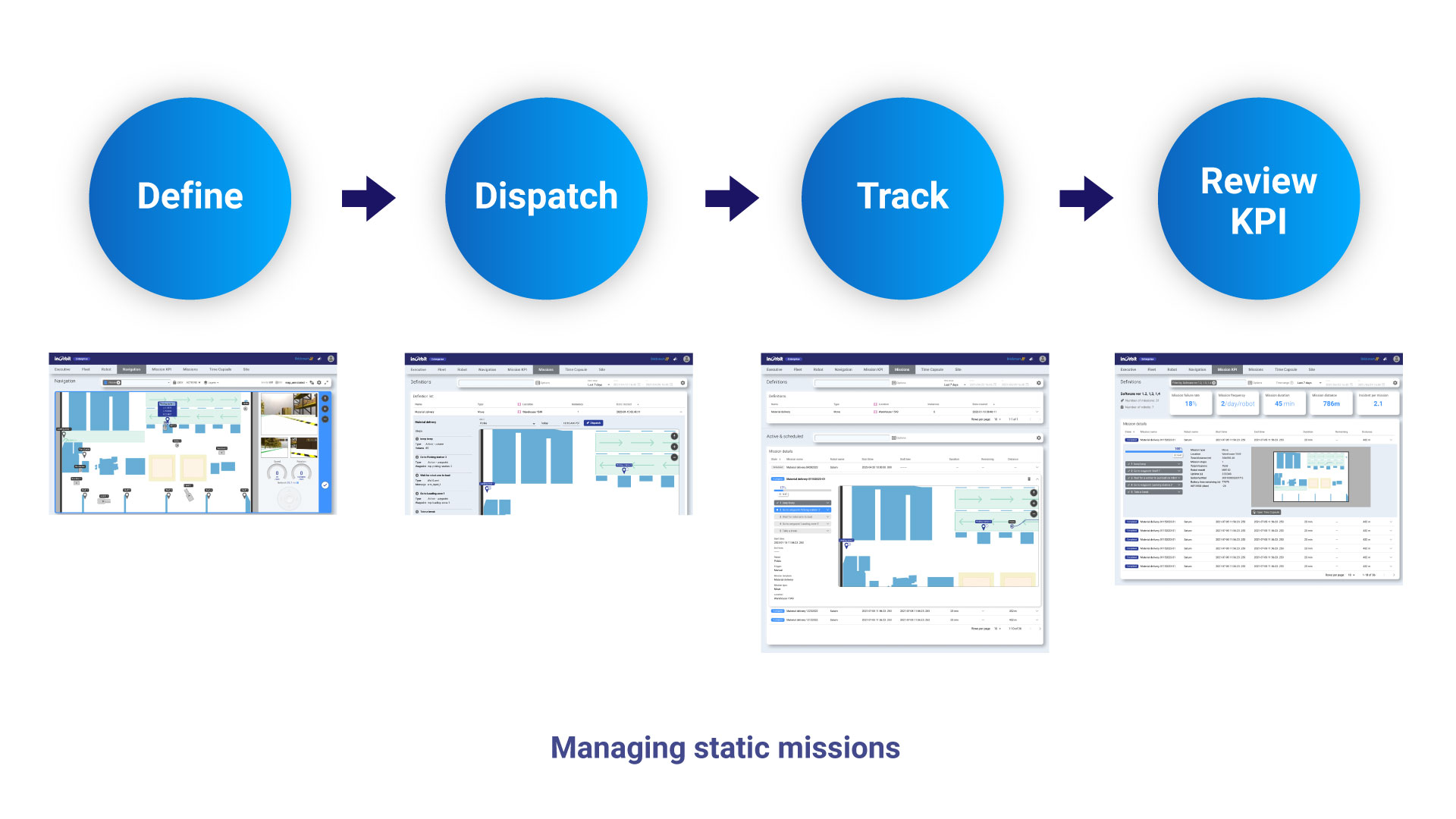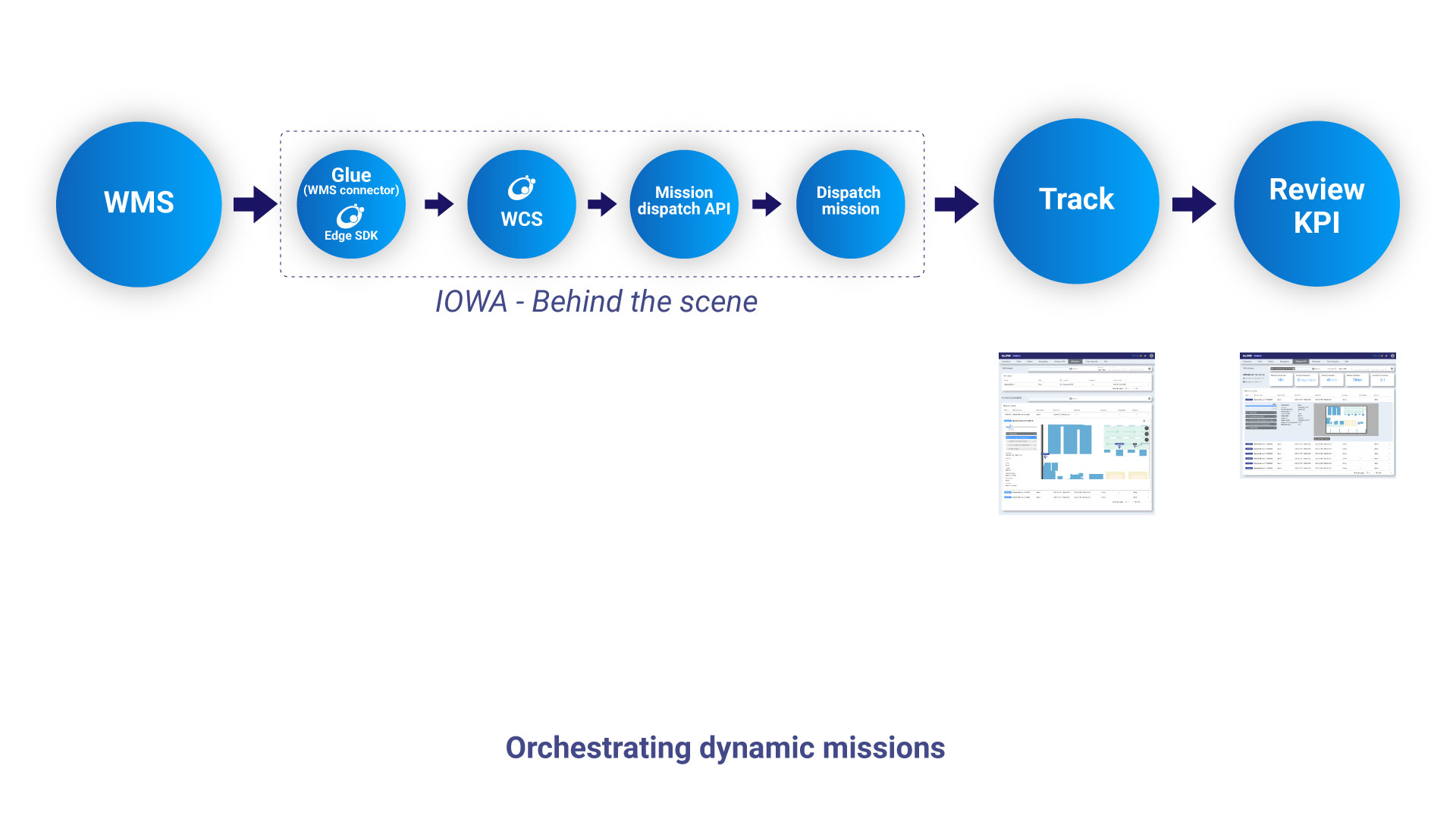 Support robots with effective RobOps
The InOrbit platform seamlessly integrates with existing systems, bridging the gap between IT and OT. The Enterprise SDK allows easy integration with any warehouse management system (WMS), so that the right robots are effectively and efficiently assigned missions based on orders placed and managed in the WMS.
InOrbit is committed to supporting robotic workforces with connections to the most popular autonomous mobile robots from MiR, Geek+, OTTO, and much more. A growing list of already connected robots to meet every need can be found in the Robot Directory.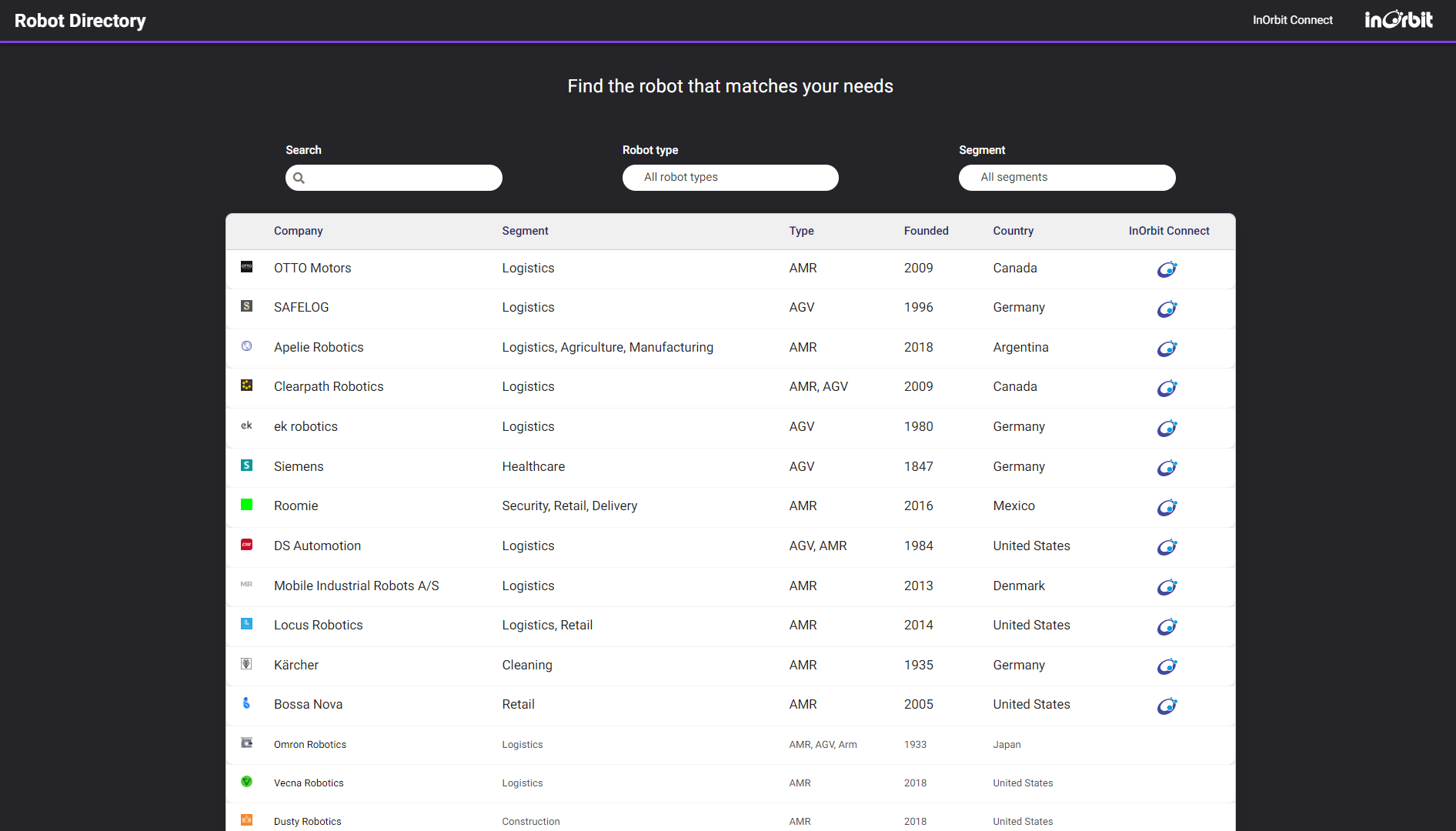 Interoperability is key to realizing more complex tasks and safely managing interactions with human collaborators and other robots. This goes beyond traditional fleet management.
InOrbit provides heterogeneous fleet orchestration whether connecting via the native InOrbit Agent, InOrbit Edge, or any of the emerging interoperability standards such as VDA 5050, MassRobotics AMR Interoperability Standard, and Open-RMF. InOrbit Connect is the certification program which ensures that companies deploying robots can proceed with confidence in compatibility and adaptability from initial pilot to scale. With InOrbit Connect, deploying robots from one or more vendors and managing an entire fleet in one place is just a click away.
With InOrbit as a partner, companies can rest assured that robot operations are managed. InOrbit's complete solution allows companies to optimize robotics and improve operational efficiency, driving growth.