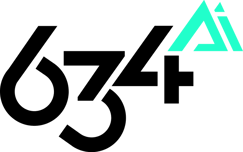 634 AI was founded to enable organizations greater resilience and business continuity in an ever-changing world. We are driven by a mission to simplify industrial mobility and allow safer, smarter operations – for everyone, everywhere. We developed MAESTRO, a proprietary, AI-powered control tower that streamlines management of anything mobile on an industrial floor.
MAESTRO gives superpowers to the most ordinary industrial space. It's top-down visibility enables customers a fully coordinated operation of anything mobile – be it track and trace movements of goods and equipment, real time safety alerts for man driven vehicles, or navigating fleets of generic autonomous mobile robotic platforms, all through a unified and flexible modular system, with greater safety, and at an affordable price.
634 AI is on a mission to make a safer and smarter industrial mobility – from the industrial floor to the airport terminal, the warehouse floor or the hospital floor, and beyond.
"We are excited to be partnering with InOrbit to deliver a comprehensive and holistic solution for industrial floor management, using data analytics and AI. InOrbit's agnostic approach to management of heterogeneous fleets of autonomous mobile robots resonates well with our MAESTRO's 'safer, smarter' philosophy of indoor mobility orchestration. We found InOrbit team's vision of solving real human problems identical to ours, as both companies' motivation is to develop cutting edge solutions that will ultimately enable humans to practice more humane jobs".