Orchestrating Robot Missions with InOrbit Connect
InOrbit missions power end-to-end robot operations with a growing ecosystem of InOrbit Connect participants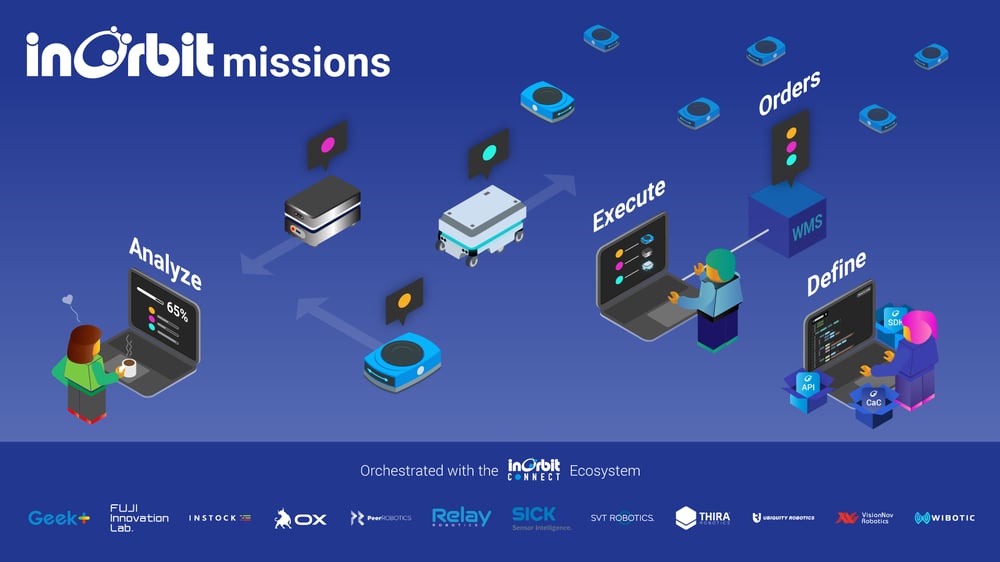 MOUNTAIN VIEW, CA – InOrbit, Inc., the leading provider of cloud-based robot operations (RobOps) software, is excited to announce significant advancements in its quest to accelerate the adoption of robotics at scale. InOrbit missions is the answer to customer demand for end-to-end robot orchestration, providing multi-vendor, bidirectional communication with robot fleets of any size. This innovation works in tandem with the rapid expansion of InOrbit Connect to offer developers and companies deploying robots unprecedented opportunities to realize immediate value.
InOrbit missions empower robot developers and end users to harness the full potential of their robotic fleets. Customers can control any robot, from scheduling repeatable tasks to dynamically dispatching robots on their missions, while precisely tracking performance analytics. InOrbit missions unlock multi-vendor traffic management and streamlined workflows for greater efficiency and productivity. Tasks ranging from simple actions to complex, multi-robot behaviors can now be defined, executed, and analyzed with unparalleled ease.
"This is the culmination of platform enhancements developed over the past year in response to a growing market need. InOrbit missions redefines what's possible in the world of multi-vendor robotics," said Florian Pestoni, co-founder and CEO of InOrbit. "Robot developers can now leverage a complete white label system for higher level robot behavior, saving costly development and maintenance. Additionally, InOrbit missions is a game-changer for end users that unlocks the ability to orchestrate operations, combining all of their robots, equipment and software with ultimate flexibility and control."
InOrbit missions and InOrbit Connect work hand in hand, offering developers and end-users a seamless solution for efficient robot orchestration. Developers have flocked to the program because it allows them to meet their customers' demands for interoperability while still driving differentiation of their robots. For end users deploying robots at scale, working with InOrbit Connect partners enables them to future-proof their operations, guaranteeing the efficient control of multiple robots, regardless of the vendor, alongside integrated technologies ranging from IIoT devices to warehouse management systems (WMS). The InOrbit Connect ecosystem has grown because integrating new robots and missions into operations is just a few clicks away, providing a fast path to value
The InOrbit Connect program has flourished to include a diverse array of companies, all dedicated to shaping the future of robotics. The Robot Directory now boasts an impressive array of new Connect-certified companies, including Geek+, FUJI Innovation Lab, Instock, Ox, SVT Robotics, Peer Robotics, Relay Robotics, SICK, Thira Robotics, Ubiquity Robotics, VisionNav Robotics, and WiBotic.
This expansion extends the InOrbit Connect program beyond traditional robotics and autonomous mobile robot (AMR) companies. Partners like SICK, renowned for advanced sensors, WiBotic, providing wireless robotic charging solutions, and Ox, orchestrating human-robot collaboration, contribute to a rich ecosystem. InOrbit users can now access this broad array of technologies and expertise to enhance their robotic operations.
"The InOrbit Connect ecosystem is pivotal for companies like SICK that provide critical technology to the robotics industry," said David Adams, Director of Strategy and Business Exploration at SICK, Inc. "As robots become increasingly integral to sectors like logistics and manufacturing, InOrbit Connect offers a strategic avenue for delivering cutting-edge technology, ensuring seamless integration with other systems
As InOrbit Connect continues to expand, customers can look forward to more options and greater flexibility when building and optimizing their robotic fleets. Companies can register for InOrbit Connect and explore the Robot Directory right here.
To learn more about InOrbit missions please click here. For media assets click here.
About InOrbit
Headquartered in Mountain View, California, InOrbit is the leading platform for RobOps at scale. The company empowers robot developers and end users to maximize the potential of every robot. InOrbit's multi-cloud platform enables efficient robot operations and provides observability through secure, real-time analytics and data collection, robot performance monitoring, incident response and root-cause analysis. The InOrbit Connect certification program allows end users across industries to orchestrate robots for multiple tasks and from multiple vendors to optimize productivity. For more information, please visit http://www.inorbit.ai.