InOrbit adds Total Support for comprehensive remote robot operations
Introducing the Total Support bundle for select customers looking to enhance InOrbit's RobOps platform with a human-in-the-loop solution for timely incident resolution in growing robot fleets.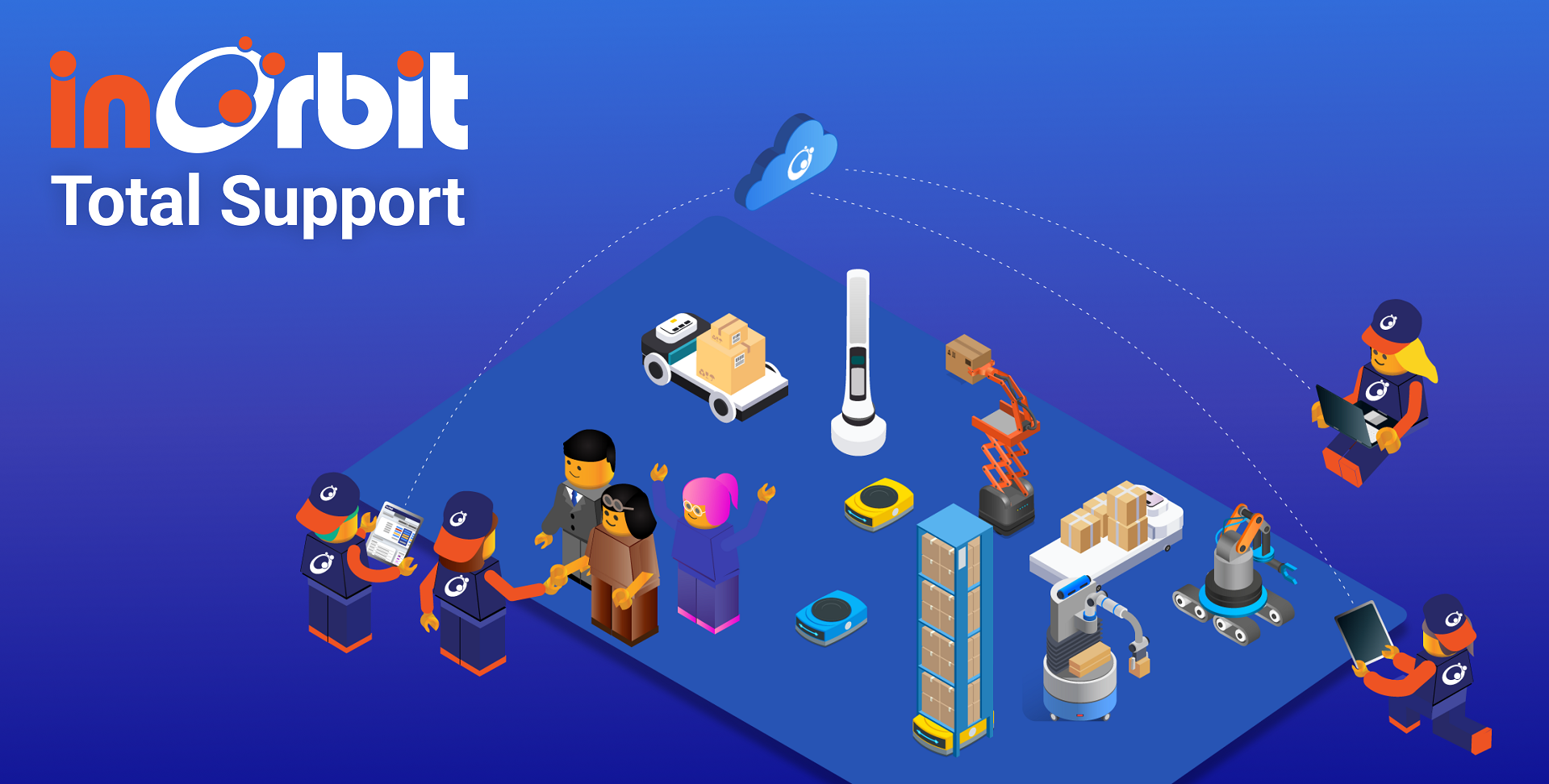 MOUNTAIN VIEW, CA – InOrbit Inc., the leading provider of cloud-based robot operations (RobOps) software, is excited to announce an expansion to its robot operations support packages with the introduction of the Total Support bundle. This enterprise-tier support package is offered with the Enterprise Edition of the platform, which includes the leading RobOps tools. The bundle is designed to meet the needs of robot developers as well as enterprise companies deploying rapidly growing, multi-site or multi-vendor robot fleets.
Total Support is perfect for qualified InOrbit users who need the highest level of support and are looking for a comprehensive remote robot operations solution to manage active fleets. It is especially valuable for those who may have limited experience managing the complexities of a Robot Operations Center (ROC), or who are looking for a scalable, 24x7, fully-managed solution to drive mission-critical robot applications. With Total Support, customers can enjoy remote incident management and data-driven insights from a team of expert roboteers to optimize robot deployments and deliver improved uptime and performance.
"Some of our customers have already been using Total Support as an early access offering; we're thrilled to now offer it to select customers who are looking to take their robot deployments to the next level," said John Simmons, Head of Product at InOrbit. "Beyond fleet monitoring and incident management, Total Support provides access to InOrbit's extensive RobOps expertise and accelerates time to value delivered by our platform. InOrbit's roboteer team leverages best practices and operational excellence guidelines developed over thousands of hours of hands-on support across a wide range of robot implementations to ensure smooth operations for Total Support customers."
"Working with InOrbit and their team allows us to focus our efforts on our unique differentiators," said Steve Cousins, Chief Technology Officer at Relay Robotics. "It ensures that we're always able to provide the best possible experience for our customers, enabling growth opportunities for our sales team."
Total Support works with InOrbit Enterprise Edition's scalable cloud platform for robot operations with:
24/7 remote robot support by experienced roboteers

Comprehensive fleet orchestration

Timely incident management and response

Integrations with incident response tools (Slack, Zendesk, and more)

Customized reporting and key performance indicators

Root-cause incident analysis

Advanced incident optimization
Total Support is available for qualified customers and complements InOrbit's existing Basic and Premium support tiers. Learn more about InOrbit robot support services at https://www.inorbit.ai/support
For media assets please click here.
About InOrbit
Headquartered in Mountain View, California, InOrbit is the leading platform for RobOps at scale. The company empowers robot developers and end users to maximize the potential of every robot. InOrbit's multi-cloud platform enables efficient robot operations and provides observability through secure, real-time analytics and data collection, robot performance monitoring, incident response and root-cause analysis. The InOrbit Connect certification program allows end users across industries to orchestrate robots for multiple tasks and from multiple vendors to optimize productivity. For more information, please visit http://www.inorbit.ai.