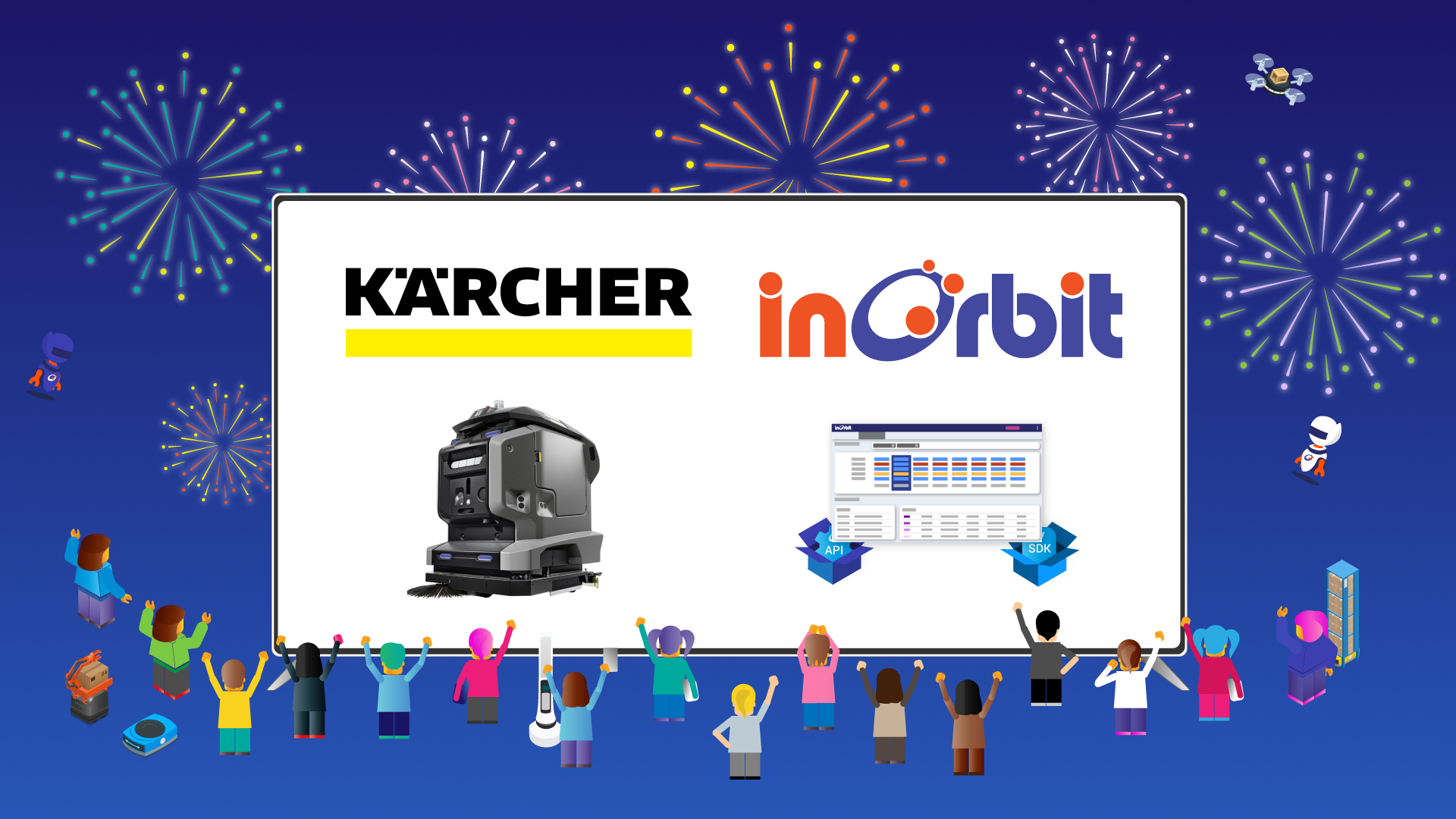 Live Webinar:
Kärcher + InOrbit: the Future of Autonomous Cleaning
Premieres live: June 1, 2022
8am PDT | 11am EDT | 4pm BST | 5pm CEST
Duration: 45 minutes
Cleaning up with Kärcher
InOrbit's recently announced collaboration with Kärcher brings RobOps, or robot operations, best practices to the quickly evolving world of autonomous cleaning at scale.

In this live webinar, we will explore the future of commercial cleaning, including the role automation is playing, and how innovators like Kärcher are approaching the complex orchestration of multi-robotic systems. Join us to learn why robot manufacturers are developing a new class of smart autonomous robots like the KIRA B 50, what makes these robots so ground-breaking, and how smart robot operations are enhancing cleaning capabilities with data, analytics, and effective incident support.
Kärcher is one of the largest developers of industrial cleaning equipment. With a global presence and a reputation for reliability and innovation, their recently launched line of Kärcher Intelligent Robotic Applications (KIRA) marks another step on the road to fully autonomous cleaning at scale and brings significant added value to their customers.
InOrbit is thrilled to welcome some fantastic guests, including our partners to a conversation diving deeper into the future of autonomous cleaning and the implications for both the cleaning sector and robotics.
The webinar will be hosted by InOrbit CEO and Co-founder Florian Pestoni. An expert in robot operations Florian is a champion of autonomy orchestration. With over 15 years' of experience leading products at SaaS startups and public companies, Florian's passion is to bring a data-driven, product-centric approach to robot operations. At InOrbit, he drives the company's vision that humans, robots, and AI working together can overcome our global challenges to positively impact the lives of billions.
Florian is joined by guest speaker Marco Cardinale, the Vice President of Floor Care, & Robotics at Kärcher. With 14 years of experience in the cleaning technology industry, Marco has spent more than 5 years working directly on autonomous cleaning solutions. He has held various leadership positions in Product -Development & Management, Business Development, Corporate Strategy / M&A. He holds a Masters in International economics from the University of Stuttgart-Hohenheim.
We are also grateful to be joined by guest speaker Felipe Garcia Lopez, the Head of Robotic System and Software Engineering at Kärcher. Felipe has 10 years of experience in Research and Development of AMRs in intralogistics and cleaning applications. He holds a Masters in Mathematics and Computer Science, as well as a PhD in Mobile Robotics from the University of Stuttgart.
Reserve your spot today as we discuss:
What autonomous cleaning practically means

Why autonomous cleaning is the future

Kärcher's KIRA B 50 explored

Challenges unique to cleaning robots

The future of humans and robots working together

Opportunities to clean up with automation
Can't attend the webinar? Reserve your spot and we'll send you the recorded webinar to watch at your convenience.
Marco Cardinale
VP, Floor Care Solutions & Robotics, Kärcher
Felipe Garcia Lopez
Head of Robotic Systems & Software Engineering, Kärcher
Florian Pestoni
CEO & Co-founder, InOrbit
Complete the form to reserve your spot