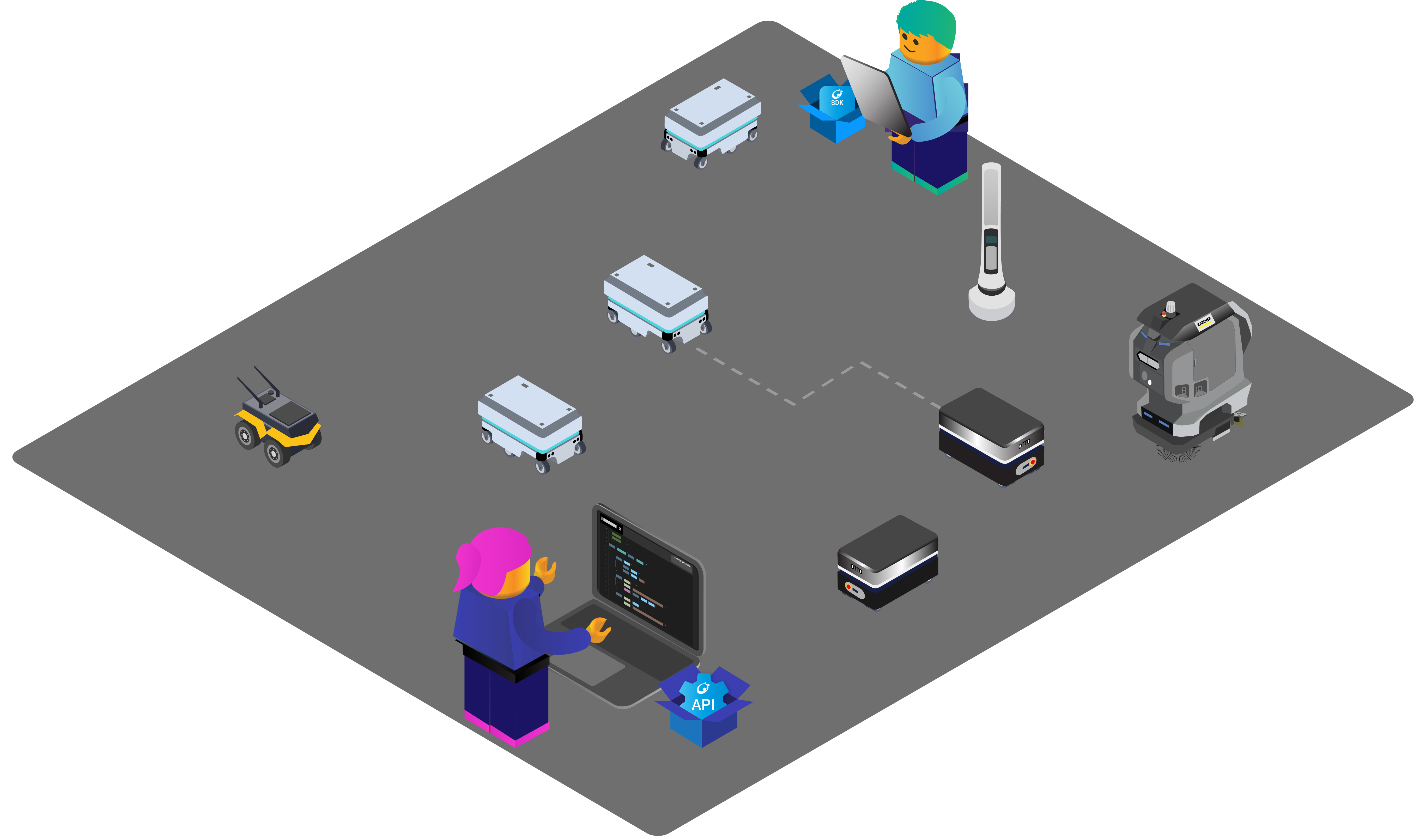 On-demand Webinar:
Interoperability and the Future of Robotics
Premiered live: November 23, 2022
Duration: 30 minutes
"The best teamwork comes from men who are working independently toward one goal in unison." - James Cash Penney
There is a growing need in robotics for separate systems to not only co-exist, but also to coordinate their work and in some cases collaborate on tasks. The industry has been exploring various options to answer this need. Robot manufacturers and systems integrators and end users are coming to the understanding that robotic implementation means more than a single deployment, more than a scaled pilot, and more than just an experiment. Autonomous mobile robots (AMRs) demand software solutions that empower users with the ability to deploy multi-task, multi-robot, and multi-vendor fleets with the potential to grow and scale in harmony with existing systems. There is a pressing need for interoperability.
This on-demand webinar explores the future of robotic interoperability and the path to intelligent orchestration. From emerging standards to partnerships and flexible integrations, our panelists explore where we are, and where we're going.
As a central focus, InOrbit has been involved in a number of ongoing initiatives around interoperability for heterogeneous robot fleets. InOrbit held a series of live demonstrations of multi-vendor fleets co-existing and coordinating in the same space at the AMR & Logistics conference in October 2022. Additionally, integrations with the MassRobotics AMR Interoperability Standard and the launch of an open source ROS2 to VDA 5050 connector created through a joint collaboration between InOrbit and Clearpath Robotics highlight our dedication to enabling orchestration for robot developers and end users.
InOrbit Co-founders, CEO Florian Pestoni and CTO Julian Cerruti co-host this on-demand webinar exploring the future of robotic interoperability. Learn why robots working together is key to furthering industry growth.
The significance of interoperability

A current landscape explored

User demands now and in the future

The challenges of implementation

Emerging standards and operational solutions

The future of interoperability
Florian Pestoni
CEO, InOrbit
Julian Cerruti
CTO, InOrbit
Complete the form to view the recorded webinar.