A dark kitchen is not where we end up in search of a midnight snack. Rather, it's a concept for restaurants, especially in bigger cities, that eliminates the front-of-house aspect of a restaurant (dining room, tables, chairs, waitstaff) to leave only food preparation tasks. Basically, it's a restaurant that exists only to serve carry-out or delivery orders for customers.
This notion has accelerated since the pandemic, as restaurants were forced to move to this model to stay in businesses after cities and states shut down in-person dining. But many restaurants were looking at this model anyway as they faced higher rents and economic issues such as labor shortages. This concept has also been called a "cloud kitchen" (like CloudKitchens, founded by Travis Kalanick, former co-founder/CEO at Uber) or even a "ghost kitchen" – but that makes us think of a Haunted Mansion-style cafeteria.
Robotics and automation have had an impact on the dark kitchen concept, both during the food preparation phase as well as the delivery of the prepared order. Kitchen automation companies, such as Picnic (pizza automation) and Miso Robotics (grilled items like hamburgers and steaks, and fried items like chicken fingers and french fries), have helped restaurants prepare their dishes efficiently and more accurately.
Other companies are putting the restaurant inside a box, such as Piestro's pizza-making vending machine, or the fresh salads made by Chowbotics, which was acquired by DoorDash earlier this year. On the delivery side, robots and autonomous vehicles such as Starship, KiwiBot, and Nuro have been deployed to deliver food orders over that "last mile" from the restaurant to a customer's home. Companies have also explored delivering food over the air via drone in certain locations or through mobile robots within a corporate campus.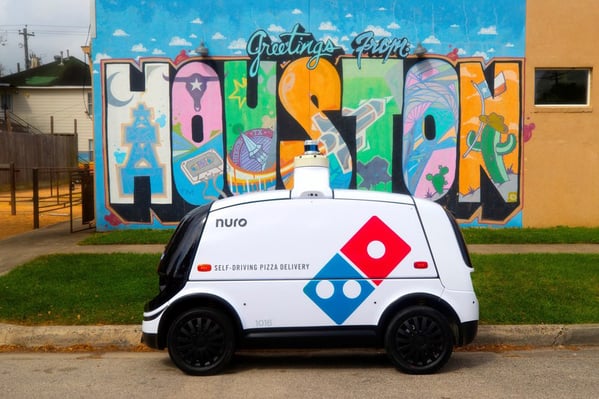 For the most part, Domino's Pizza has already adopted a dark kitchen concept - while they do offer storefronts where you can pick up an order, those are usually carry-out orders – it's not like a Pizza Hut restaurant where you can sit down and eat your order. It's no wonder that Domino's is exploring the autonomous delivery route - it recently announced customers in certain parts of Houston can have their pizza delivered by a Nuro self-driving robot vehicle.
These approaches seem much more grounded in reality than prior attempts, such as Zume Pizza, which achieved a sky-high valuation based on Softbank's investment, only to shut down the business less than 15 months later.
There are still, however, two big questions regarding these newer concepts. First, we're not sure yet whether delivery by robot can scale large enough to go beyond deliveries within a specific urban area. Most restaurants that offer delivery set up zones that indicate how far they will have a human driver travel to make deliveries economically possible. This is unlikely to change with autonomous delivery, especially considering battery issues that mobile robots and aerial drones will have compared to a regular vehicle driven by a human. Once you leave a city, potential customers live farther away than the robot can drive or the drone can fly.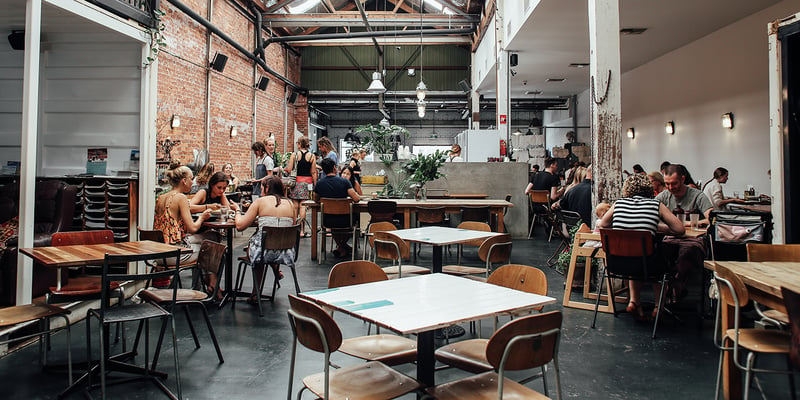 Second, it's unclear whether the dark kitchen concept will continue in a post-pandemic atmosphere. With vaccinations progressing, there is a lot of pent-up demand for customers to want to return to the "restaurant experience," where diners can go out, socialize and have a perfectly cooked meal from a top-notch chef. Despite improvements in packaging for take-out orders, often our french fries and other food items are not as good as when we get them at the restaurant.
We do believe that food-preparation robots within commercial kitchens will continue to prosper, as restaurants continue to deal with tight profit margins, labor costs and possible new regulations around sanitation in a post-COVID world. Robots and automation can solve many of these problems now, and we'll likely see further innovations that continue here. We may also get more used to ordering a freshly prepared meal from a vending machine, combining cost, quality and convenience.
Most likely is a world where both concepts exist - a restaurant will include a dining area for in-person guests (although it will likely be smaller or more spaced out than before, and may be served by robots like Keenon or Bear Robotics, another SoftBank-funded startup), and they will continue to offer delivery options via services that include a mix of technology options (drones, autonomous vehicles, and human drivers).