Recently our partners at Kärcher were celebrated with a Corporate Innovation Award at the Plug and Play Silicon Valley November Summit 2022. The award, issued in the IoT category, was given during the event at the Plug and Play Tech Center in Sunnyvale, CA and the recognition of innovation is certainly well deserved. The award celebrates Kärcher for the ongoing successful collaboration between Kärcher and InOrbit. This relationship, which started at a Plug and Play event three years ago, has been a true success story.
For those unfamiliar, Kärcher is a German family-owned company that operates worldwide and is well known for its high-pressure cleaners, floor care equipment, parts cleaning systems, wash water treatment, military decontamination equipment, and window vacuum cleaners. When InOrbit came into the picture, Kärcher was already working on a revolutionary autonomous floor scrubber, the Kärcher Intelligent Robotic Applications KIRA B 50. This autonomous mobile robot is built to be used even in small spaces, completes its cleaning tasks autonomously and, when necessary, returns to its docking station to recharge the lithium-ion batteries, empty the recovery tank and add fresh water.
When looking at ways to automate and provide additional robotics solutions to its product lines, Kärcher understood that it would need a robot operations platform to manage robots across its growing fleet. Kärcher picked InOrbit, as the recognized leader in RobOps, to help. Beyond offering InOrbit's enterprise-ready platform, our team worked in collaboration with the Kärcher services team to help define the business models they needed to succeed. For instance, we made sure that, when a machine shows degraded performance, the right people have the proper access in order to get the system back up and running quickly -- ideally without an on-site visit. Through new advanced support offerings, InOrbit handles real-time interventions through a fully managed service, ensuring the full autonomy of the robot.
Needless to say, our partnership has been extremely positive for both companies and we were thrilled to be on hand to celebrate Kärcher's win at the Plug and Play event. You can learn more about the Kärcher and InOrbit collaboration in our partnership announcement, our recently released Case Study. our in this free on-demand webinar exploring "The Future of Autonomous Cleaning".
At the Plug and Play event, InOrbit CEO Florian Pestoni was kindly invited to join Florian Schoebinger, the Head of Kärcher Silicon Valley | Start-up Partnerships & Investments, and Felipe Garcia Lopez, the Head of Robotic Systems & Software Engineering on stage to celebrate their fantastic achievement. Feel free to watch the awards ceremony below, and we encourage everyone to learn even more in Plug and Play's Corporate Innovation Case Study.
Again a heartfelt congratulations to the entire Kärcher team on their well-deserved win. And congratulations to Plug and Play for their ongoing success connecting forward-thinking corporate innovators with companies like InOrbit to provide unique solutions for particular needs. Explore the full list of winners from the PnP November Summit right here. We're proud to be partners with collaborators of this caliber and look forward to more success.
Read even more about the Corporate Innovation Award on Robotics 24/7. And enjoy some pictures our team captured at the summit.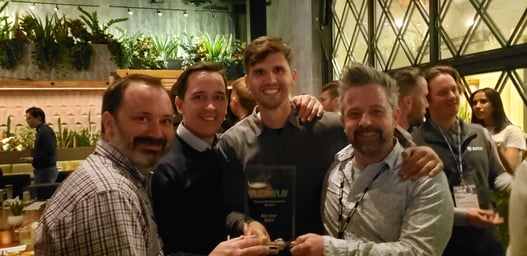 (L - R) John Simmons, Felipe Garcia Lopez, Florian Schoebinger, Florian Pestoni