We're very excited today to announce our plans for Automate 2023, which kicks off in Detroit a week from now. The event, run by the Association for Advancing Automation (or A3) is the premier robotics industry conference, and one of our favorites. Last year's Automate was a true highlight for InOrbit, as it gave us an opportunity to bring our platform and RobOps solutions to a massive and engaged audience. This year we're thrilled to raise the bar once again as we launch new capabilities specifically for companies deploying robots and for companies building them.
Visitors at Automate can join us at booth #2247 to experience a live showcase of our latest capabilities with our fleet of robots in Mountain View at the Robot Space. We piloted this hybrid in-person and remote live demo set-up at ProMat about a month ago and it worked extremely well. Now we're bringing the Robot Space to Detroit so that visitors can see the InOrbit platform at work orchestrating real robots in a real working environment over 2,000 miles away.
Companies deploying robots will want to see InOrbit orchestration in action. In addition to the mission observability we've been talking about for the past few weeks, InOrbit users can now manage end-to-end fleet orchestration through our platform. We understand that a robot's mission is more than a series of tasks strung together, it's more than fleet management and traffic control, and even more than the data that drives ongoing optimization. For most, missions and robot fleet performance is the distinction between success and failure.
With InOrbit, companies deploying robots can seamlessly control any robot fleet, including scheduled repeatable tasks, dynamically dispatching robots, and ad-hoc user-requested tasks, all while precisely tracking fleet performance. Orchestration is not tied to any single task, robot, location or even vendor, enabling our customers to manage anything from a single robot to a complex multi-vendor, multi-site fleet through a single pane of glass.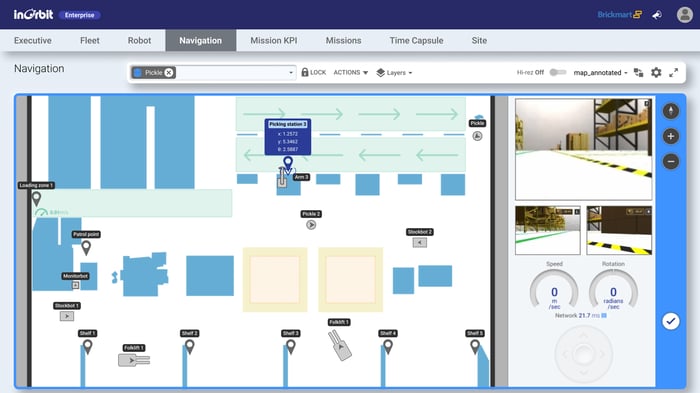 For robot developers, we're going beyond incident management to efficiently capture and present the information that will allow operators to solve robot performance problems with our Root Cause Analysis (RCA) solution. This solution is designed to specifically address pain points familiar to anyone managing a growing robot fleet. Autonomy incidents will happen, and robots in production environments will fail. How you address those failures and what you learn from them is critical. RCA lets users review and filter incidents with relevant, informed context while eliminating extraneous, distracting data. From Time Capsule to new advanced video features and integrations to support additional industry tools, RCA breaks through the data overload to quickly surface actionable insights and support the continuous improvement cycle critical to efficient automation.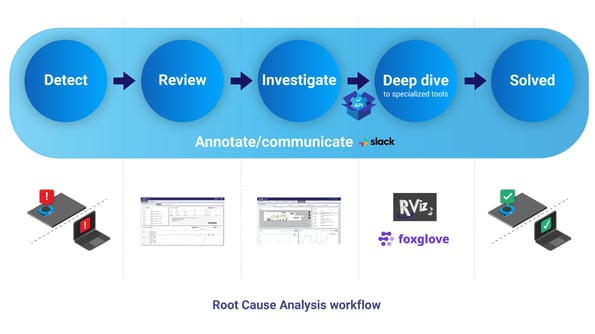 There's really a lot to see, and this only scratches the surface of our plans at Automate. Stay tuned for more detail on everything as we dive into the upcoming event. And let us know if you'll be at the show. We'd love to bring our platform to life for your team in a live demo. And maybe share a slice of authentic Detroit-style pizza 🍕.
We hope to see everyone next week for what's sure to be a fantastic event!