We are thrilled to announce that InOrbit Connect™ has been recognized for a 2023 Product Award in the B2B Tech category from Products That Count.
The Product Awards, now in their 6th year, we're presented by Products That Count in partnership with Mighty Capital and Capgemini. The awards are designed to celebrate the tools and products that help PMs and their teams build great products to accelerate business. Nominees are chosen by Products That Count's product manager network, and winners are chosen by an independent Awards Advisory Board composed of top product leaders.
InOrbit Connect is a 2023 Product Award Winner in the B2B Tech category which saw over 2,000 applications. A total of 33 winners were selected in this category. You can learn more about the other category winners in the video found on the PTC website.
When we launched InOrbit Connect last Summer, we knew it was an innovative program but we could not have predicted that it would generate so much interest and see so much success so quickly.
The InOrbit Connect free certification program is uniquely designed to reduce the friction between robot developers and end users. Developers need effective data management, orchestration and optimization capabilities that can scale with them, which is something our platform has long provided. The Connect program however delivers a streamlined integration with the RobOps tools end users are looking for.

This simplifies the process for companies looking to deploy robots to improve internal processes. InOrbit Connect lets them add one or hundreds of robots to their InOrbit account with a single click, and gives them access to a comprehensive Robot Directory that includes InOrbit Connect-certified robots to meet virtually any need.
As for the Product Award "The bar for what makes a great product gets higher every year," said SC Moatti, founding CEO of Products That Count. "InOrbit Connect is a testament to that. We expect them to keep defining what it means to be at the cutting edge of product, not only in 2023 but also in the years to come."
InOrbit Head of Product John Simmons accepted the award and added his congratulations to the Connect team for the well-deserved accolades "Thank you to the Products that Count team, and the developers who brought InOrbit Connect to life. We are excited to continue bringing innovative and impactful solutions to this critical industry on our mission to improve the performance of a million robots, thereby improving the lives of a billion people."
InOrbit Connect alongside the Robot Directory supports developers and end users by removing barriers to getting valuable, real-time robot operations data across tasks, models, and vendors. The program enables robot developers to gather data from all their robots in the field to drive continuous improvement. By connecting their robots to the cloud with a single click, end-users can access all critical operational data in one place regardless of vendor.
This past Fall the Robot Directory expanded by some 300% as we added a host of new Connect-certified robot companies. This expansion came in tandem with ongoing InOrbit interoperability announcements in support of emerging standards and new ways to connect. Thats all to say that our platform and products like InOrbit Connect are constantly growing and evolving with regular improvements. We take our product development seriously as we continue to bring innovation to the robotics space.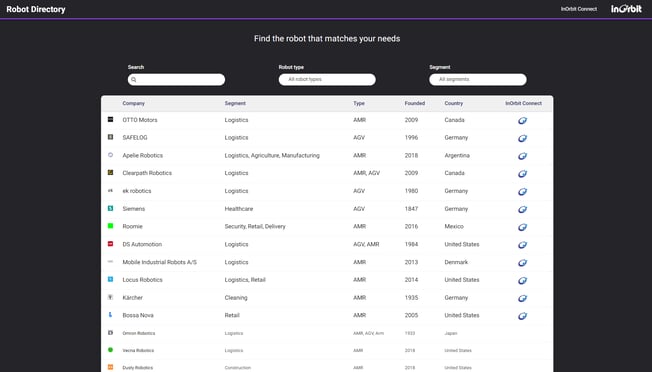 Our sincerest thanks go to the Products that Count team for the award. We're excited to continue our work bringing cutting-edge RobOps products to market.