It was really great to be part of the A3 AMR & Logistics conference this year.
The conference had the usual good presentations and panels, but the exhibitor's floor was where robot and technology manufacturers met to discuss the latest technologies and innovations in this nascent field of robotics. This conference in particular, being held in Memphis, saw the almost overshadowing presence of FedEx in attendance. But through the different panels and visitors on the exhibition floor, it became crystal clear to us that the "end user" is definitely considering operations as they think about how to deploy diverse robotics technologies in the field. This confirms that our drive to promote effective RobOps is working.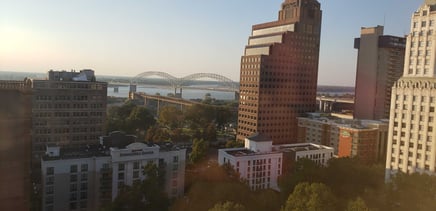 The topic of interoperability was a part of several different presentations this year, which showed a growing understanding from enterprises and robot vendors about how interoperability is the next important step to take the industry to the next level.
It was great to see OEMs coming to the InOrbit booth, asking questions about how we view the interoperability challenge, and how our platform can help. We had many conversations where it became clear that over the next few years it will become critical for enterprises deploying robots to handle multi-branded fleets, and that operation of these fleets will require not only a single pane of glass, but also an abstraction layer that allows for operators to have high robot uptime without the need to learn the terminology or specific functions that each robot vendor might uses.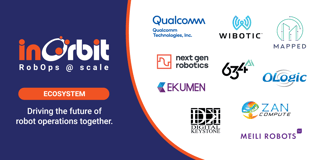 The A3 conference marked not only the launch of our new Developer Portal, but also our partner Ecosystem. With interoperability becoming a priority, the understanding that the solutions to each use case that enterprises may face requires a lot of integration into existing software solutions and workflows as well as with new data layers provided by other experts. We had three InOrbit partners at the conference with us (Digital Keystone, 634.ai, and Next Generation Robotics) and other partners were showcased as we engaged with customers and the media. This commitment to working together, to bolster each other and the community, was felt across the conference.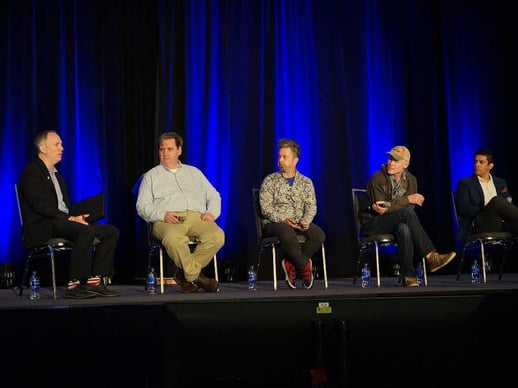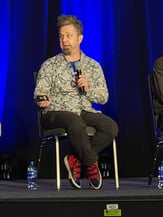 While Aaron Prather (FedEx) was sharing some of their plans and needs on stage, Daniel Theobald (Vecna Robotics) talked about MassRobotics' vision for the interoperability standards and Florian Pestoni (InOrbit's CEO, right) talked about why our interoperability and ecosystem commitments are so vital. It was also great to see Jose Luis Susa Rincon (Siemens) mentioning what is working now and what is honestly still needed to achieve true interoperability.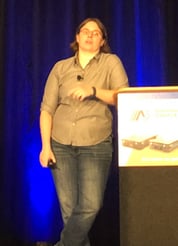 I was personally really impressed by one of the questions that Fady Saad (MassRobotics) asked Melonee Wise (Fetch, Zebra). He asked, 'What would you do differently if you were starting Fetch all over again?' Melonee answered by explaining how she would go directly to the cloud for solutions. It's so interesting because for a while, Melonee's team at Fetch focused primarily on solving customer problems with requirements around edge solutions, which took a long time and effort. Her comment is a great example of how the industry is changing. Finding the right approach to solve unique customer challenges and leveraging the right layers of robotics infrastructure by using what is best from cloud solutions is an exciting trend.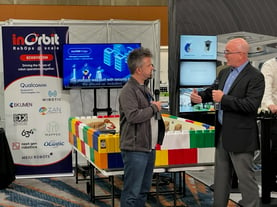 It's fascinating how much the robotics industry today looks like the web circa 1999. There are industry conferences today (like this one) where tech enthusiasts and companies can share their vision of the future, and already see what will likely happen in the next five or 10 years. There is a lot of energy in the industry now, and a lot of tech conversations are happening to solve the upcoming challenges we can already anticipate. It's very similar to what enterprise companies faced in 1999 when they were approached by tech enthusiasts about building their web pages and using that as the future channels to grow their businesses. If you remember, not everybody could see that future so clearly. Robotics has reached a tipping point where techies can see the future, and enterprise users are starting to gain the knowledge that robotics is not only necessary, but inevitable.
Thanks to all of the preparation from the InOrbit extended team, those who were at the conference, and of course the presence of our floating mascot, InOrbitO. We really had a great time at the show. We were so happy to talk with fellow robotics industry travelers, solidify a realized partner ecosystem and prepare for a bright future in the industry.
Finally, as we made new friends, it was fantastic to have such cool conversations and good vibes from Memphis artists playing amazing music to keep us going. I can't wait until next year's event and the next chance to see all of our friends again.